Fast and Lightweight Peppermint Linux OS 1.0 Released, A good platform for FOSS eHealth Apps?
Submitted by yelbetan on Wed, 05/12/2010 - 14:36
Said to boot fast in just a few seconds and lightweight (about 500+ mb). Something to test as platform for FOSS for health applications. Post your comments on this. :-)
From: Linux Magazine http://www.linux-magazine.com/Online/News/Peppermint-Linux-OS-1.0-Released
May 11, 2010
The cloud-friendly, web app-centric Linux distro is now available.
Another day, another Linux distro. Peppermint OS 1.0 uses Mozilla Labs' Prism technology to fully integrate with Cloud and web-based applications such as Hulu and Gmail. The OS is built on Linux Kernel 2.6.32, Xorg 7.5 GUI and Openbox 3.4.10 for window management.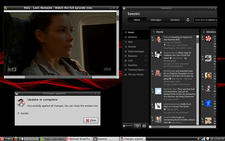 Peppermint 1.0 uses Mozilla Labs' Prism to create Web apps that run as single site browser windows (SSBs).Custom front end code integrates the SSBs into the desktop environment.
In addition to on-board software, Peppermint includes default Cloud Applications Editor by Pixlr, Facebook, Last.FM, Hulu, Pandora, The Cloud Plyer, YouTube, Google Calendar, Google Docs, Google Reader and Gmail.
Peppermint contains a custom front end for Prism that makes these Web apps seamlessly integrate with the Lightweight X11 Desktop Environment. Like Canonical's recently announced Ubuntu Light, Peppermint is designed to boot fast and power down quickly, all while providing a familiar environment for Linux users.
The operating system is available for download at peppermintos.com/download. Full release notes can be found at peppermintos.com/release-notes.
(Trevan McGee)